With new tourist locations being found every day, the country's tourism industry has developed over time. More than just the pink flamingos of Lake Nakuru there are more attractive sites in Naivasha. Some of the county's most distinctive tourist attractions can be found in Naivasha town too.
Camp Carnellys
For If you are one of the people looking to get away from the city, this place provides camping facilities for you. Fever trees cover the entire land, and colobus monkeys swing from one tree to the next as woodpeckers fly among the branches.
Visitors can kayak at Camp Carnellys to observe hippos lounging in the shallows and take in the amazing birdlife. It's great atmosphere, which is free of smoke from obnoxious matatus, is what makes it so exceptional. With lots of plants, large, vibrant couches, and hammocks, the city's renowned Lazybones bar is a fantastic eco-bar and restaurant.
Ol Njorowa Gorge
Inside Hell's Gate National Park lies this magnificent location.  They are excellent locations for hiking, but visitors are advised to monitor the weather because flash flooding is a possibility there.
You'll be guided by knowledgeable tour guides as you discover the gorges' past. As you attempt to climb up the gorges, it's a fantastic area to test your upper body strength. The region had already been shut down because of the impending threat of flash floods.
Ol Njorowa Gorge constantly curves to the left and right. Graffiti that has been inscribed into the soft rock can also be found in a few locations. This is to be anticipated from tourists who want to make their mark wherever they go.
Crescent Island
Only boats are allowed to access this exotic island. It gained popularity in 1985 after the film "Out of Africa" emphasised Lake Naivasha's beauty.
Also read Naivas Set To Open New Branch in Naivasha This Week
Lake Naivasha's lower water levels caused the crescent to form. The island, which is surrounded by lush grasslands, papyrus swamps, and acacia trees, is said to host roughly 1,000 visitors a year. Picnics, guided nature walks, biking, horseback riding, bird watching, boat rides, and game viewing are all available to island visitors.
Fish, herons, black crakes, cranes, pelicans, ospreys, and lily-trotters are just a few of the many bird species that call it home. Although non-citizens pay Ksh2,500 ($20) and Ksh1,850 ($15) for children, citizens pay Ksh600 for adults and Ksh300 for youngsters.
Malewa Wildlife Resort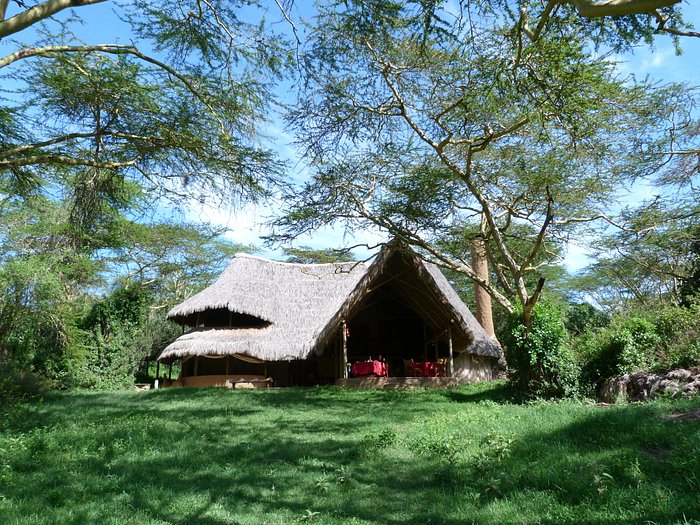 It is situated along the Malewa River. It is also known as Shades of Africa. In addition to taking leisurely walks with knowledgeable naturalists, guests at the lodge can also go fishing or enjoy a bush breakfast or lunch in between day or night wildlife excursions. Nonetheless, large acacia trees surround this opulent lodge, giving the impression that you are in the middle of a jungle.
Malewa Wildlife Resort seems to be a dream you wouldn't dare wake up from, from the lodging to the cuisine to the surroundings. The lodge boasts a dependable internet connection and solar power for charging, despite the fact that it appears to be off the grid. Biking, fishing, and trips are a few of the on-site activities.