Besides Wildlife and scenic destinations, Kenya is home to beautiful Waterfalls.  Waterfalls make for fascinating viewing as well as stunning photography. The crashing sound, the wet breeze and just the sight of the water falling make waterfalls amazing sites. And to most, peaceful. These natural attractions, ranging from the ferocious to the mesmerizing, are located deep in forests and nature trails. Tours to these waterfalls are becoming a popular experience. Although the most spectacular of them is the Karuru Falls, there are over 10 other beautiful waterfalls around the country. They provide an authentic connection with nature and the idyll rural life in Kenya. We all have a soft spot for waterfalls, so here are captivating and relatively easy-to-reach Kenyan waterfalls that are worth a visit. Prepare to fall in love with these natural wonders.
Karuru Falls
The Aberdare ranges is a hotbed of waterfalls due to the Rift Valley escarpments and the mountain ranges. Karuru Falls is one of these, and probably the best of the lot. Plunging 273M below the viewing point, the crashing sound of the water can be heard kilometers away. It falls in three tiers, with only the top tier visible from the viewing point. The green mountain vegetation around the waterfall make it a lovely spot.
Lugard Falls
Lugard's waterfall results from river Galana passing through volcanic rock, carving a narrow path and creating rapids and falls as the water flows. The waterfall is situated located along the crocodile infested Galana River in Tsavo East National Park. The falls are more of rapids than falls, with water flowing through white, pink and gray rocks forming a stunning landscape. The falls merge into a downstream crocodile pool.
Sheldrick Falls
Deep in Shimba Hills National Reserve, this lovely 21 meters drop of fresh spring water are a sight to behold. The waterfall plunges into a pool at the bottom, a perfect spot for one to dip into for a refreshing swim in the cool waters. The area is rich in vegetation with butterflies and birds taking advantage of this in their plenty, hence a very impressive environment for one to relax.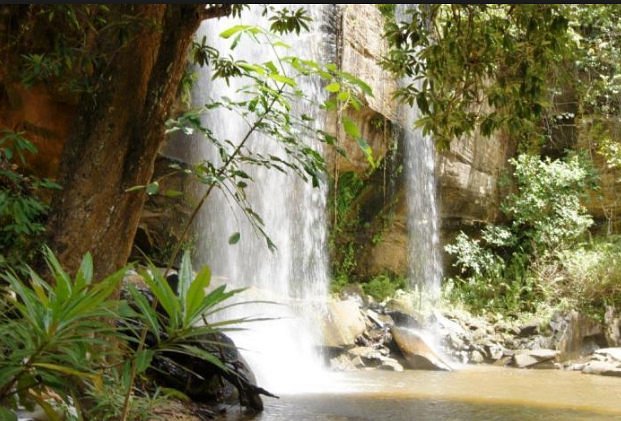 Tigoni Falls, Limuru
Within the lush greenery tea fields of Kiambethu tea farm and the forested lands of Limuru is Tigoni Falls. It is hidden in a small riverine forest that is a favorite of the city's hikers. The fall drops 18 meters and is a lovely spot for a picnic escape from the city's hectic life.
Sheldrick Falls, Shimba Hills National Reserve
Sheldrick Falls is located deep within the Shimba Hills National Reserve, Kwale county and has an impressive 21-meter drop of fresh spring water with a striking natural plunge pool at the bottom. The sight of these falls offers amazing lianas and greenery that lace it, as well as fauna and beautiful rare butterflies. You have to walk a distance of approximately 2km through the bushes, forests, and grassland to make it to the breathtaking falls.
Also read Ride Unleashed-Sigiria Circuit
Chepkiit Waterfalls
This amazing scenic fall is located 2 km from Eldoret Airport, Nandi county. It is carved-out walls of Great Rift Valley and are formed as river Sosiani water flows over a rock escarpment turning into a surging foam. The waterfall has four viewpoints from where you can see spectacular views of the water flowing and disappearing under a rock edge and downstream with flora and fauna around it.
Kenyan citizens are charged Kshs 200 per adult and Kshs 100 per child while non-Kenyans pay Kshs 500 entrance fee.